July 15th 2007
From our stay in Chamonix, most climbers we meet were all after or have done one thing, Mount Blanc. Apart from me. I wasn't interested in the walking and racing guides to the summit of Europe. It seemed long, boring and expensive. Our last weather window before we went home and I was searching the guidebooks for a route that i could solo, as it had appeared Rob wasn't keen on any of my suggestions, Walkers Spur? ok how about another go at the Swiss? Only now did i realise my obsessive behaviour, and the pressure i was placing on Rob.
I went to the tent to sulk and check my purse. It wasn't getting any fatter. I couldn't really think of anything that i could solo, that would round the trip off, i wasn't really fit, and i wasn't experienced. All that time slagging off Mount Blanc, it would make a good solo? The weather forcast was again suggesting a cold night, high winds but a clear sky. I went out to tel Rob my plans with my packed rucksac. Surpriced to see such action in our hungover camp, Rob asked if he could join me. Warming him i wouldn't be moving slow, and its going to harder day that the Frendo, he agreed.
Building our Snow Hole on the Col de Midi, i was glad for someone to Spoon with. It was a very cold night up there, and we didn't have our Bivi gear. We forgot our spoons so eating our Spag took a while. 2 hours later and i had enough, my clothes were already freezing. We walked over to the Cosmiques Hut. We hid in the boot Room and fell asleep. I was rudely awaken 1 hour later when we were caught, "you can not sleep here!"(somehow she new we were English!) I told her we will be gone in 30 minutes and were not paying 30Euros, she told us to go and left. We fell back asleep, to be again waken my someone dropping a ice axe between my legs! The guides were moving, up and out the door we went. It was 1.30am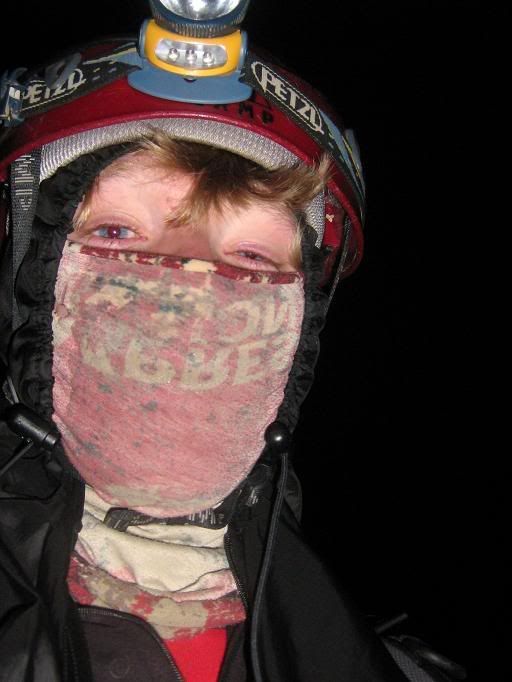 Photo: Rob after a hard Night Spooning!!
The snow made music under our crampons, prefect conditions! We didn't have a rope with us so I just hoped Rob would be fine with the pace. The Cold conditions had made the steeper Section of Mount Maudit
into a Scot III Ice slope. This section normally has fixed ropes, but none could be found, not that I would use them! the slope Steepened at the top making climbing with one axe rather challenging. I regrouped with Rob at every Top. The wait for Rob always made me chill, and had to again leave him to run down the Mount, iam not very good at pacing myself. The Winds as forecast made life pretty cold and the spindrift unpleasant, and party behind us turned around, leaving us alone on this Fanatic Classic.
I had some breakfast, and forced Rob to eat something before the final slope of Mount Blanc. Dawn was approaching, and i wanted to be on top for Sunrise. I left Rob and headed for the Summit. What a slog! The dome shaped summit just kept going! I missed sunrise but still got to have a nice chat with the first people from the Goûter Route, and take everyone Photos!!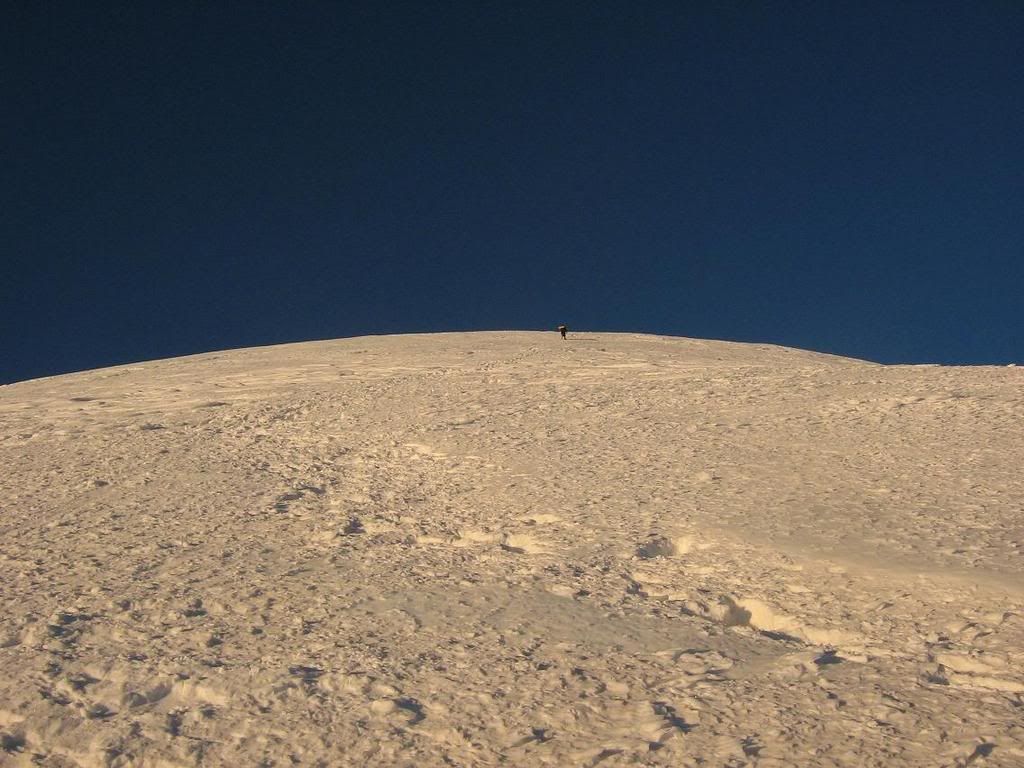 Photo: Me approaching the Summit of Mount Blanc
I arrived at the Summit for 6am and Rob at 6.30am, i let him catch his breath back and we run down the Bosses Ridge. We reached the Goûter Hut for 8am, where a nice lady, we had met sport climbing offered us some "Le Grey". We ate our breakfast we had carried with us, and started the slog down to the valley. We got back down for 2pm and made the happy hours in Chamonix.