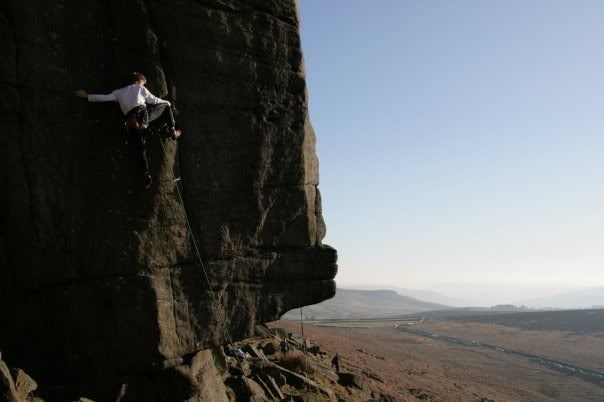 Had 5 days off. Which for me at the moment is a big thing. Plus the weather looked amazing!
Plan A: Lakes - get a mountain route done!
Plan B: Peak -get some miles on the clock
Opted for Plan A in hope that i could get a couple of mountain routes in, hearing most things were bone dry. Ian was keen for the lakes too, so we headed across with Fran and Dave tagging along. A frosty Saturday morning came and a major "war council" was needed, but nothing happened. I wanted to take the lads to Gimmer. But me and Ian had gutted the place. We headed for Stupidity (my fault) headed for Borrowdale, but lacking in any South East facing crags, it was far to cold to climb in the shade. In a vain attempt to save the day Ian drove us to Langdale, were we flogged it up to Pavey. I wasn't keen on Pavey and had avoided the idea. Frightened I would jump on Cruel Sister, which i wasn't ready for.
Pavey was in bone dry, but very dirty, but it was really pleasant in the sun, climbing in T shirts. Me and Ian did Arcturus(HVS), while Dave and Fran headed for Astra(E2). Looking at Cruel Sister(E3) it looked really Dirty and was tempted to send Ian down and clean it for me. Which for me i decided wasn't ethical, treating such a route like some polished highball. It was also a good excuse not to lead it! It was still my lead so i went for Cascade Direct. (E3-) The rock was far to cold in the shade and after faffing under the crux, I made a retreat to warm my fingers. I ended up going up Cascade and abseiling of when I got a bit lost and in hope to save a bit of time.
We ended up all leaving for Teeside on Saturday night, not sure when the next lifts home would be, and i was keen to try Plan B, and the lads keen to climb at the Wainstones?
Plan B involved a Early Sunday morning to catch the train full of boro supporters, cracking there cans of lager open at 9am. I suddenly hated foootball even more! I Arrived on Stanage around 1pm, soloed around 20 routes (all above VS) till dark, and lead the Asp(E3), (met a guy called Ed who let my use his gear after i asked for beta (was thinking of soloing it). Sunday Night was the coldest night ive spent in England. -10C Apparently in Sheffield. I didn't sleep much excited about tomorrow and the fact i was freezing! The morning came and i left the tent around 10am let the rock warm up and sleep a little now it was warmer. I soloed just under 28 routes, including Queersville(HVS) Eliminator (HVS) Easter Rib (E1-) and Kirkus's Corner (E1-) I was warmed up and felt confident. My goal for the trip was, Bond Street and The Great North Road. Both Solid HVS and both ive fallen off, when i was getting into HVS.
The 40 minute walk over to Millstone I felt great, I could solo anything. there was one team in the quarry who I had met the day before on Stanage, the strongest climber in the team called Kim. after a quick chat i put my boots on and made my way up the crack of Bond Street. Easy. "Jam and Jam", "arh crappy Jam!" "arh another crappy jam!", "its ok your feet are solid", "on hang on i cant see my feet!" "Crap, keep moving!" I knew i wasn't committed yet, for some reason the ledge and no hands rest one move above was to far. I downclimbed mid crux...!!!! At the bottom, my hands were bruised, but i didn't feel the slightest bit pumped. It was Mental nothing more nothing less. Iam not ready to solo stuff i fell of last year. Not sure if its a bad thing or a good thing.
Kim lead Time for Tea(E3), making it look VD. After seconding it previouly and falling off it and not getting up it i knew how hard it was. His second wasnt keen on climbing it again, so i asked if i could tie on. I failed to climb the 5b finger crack and took a rest on the rope. (something i need to practise on) The upper crux felt fine(crimpy), but my ego was knocked. Saying my goodbyes and retreated to Hathersage, were i bought some fruit and spent the night in the Pub keeping warm.
Monday night was much warmer with the beer and massive Pasta meal, and i got up early Tuesday and had my breakfast on Stanage Moor. I was planning of meeting Rob In the Afternoon on Stanage to lead a few routes so headed over to Burbage North. After soloing a couple of routes i headed for The Knights Move(HVS-) which felt really easy. Walking back over to stanage I soloed most of the routes I did the day before, and a couple of new ones including Black Knight(HVS) which was wicked! Met up with a Few UKCer who were having a "meet" there, lucky no one knew my name, but as the lad who was camping at North Lees! Rob and Lottie Turned up around 2pm, and wasting no time jumped on Black Hawk Bastion,(E2+) Which gladly felt really easy. Rob hadn't brought any small wires (which was my fault!) so the other E3's i had lined up weren't gonna go. My High Peanut butter and pasta diet had got to me and nature called so i decided to leave for Teesside Tuesday evening, leaving Rob to climb with Lottie and enjoy himself!